"Can I Handle the Seasons of my (running) Life?"
September 17, 2017
It's Maritime Race Weekend!  This is my sort-of Tartan Twosome (5km/10km races) recap.
Last Wednesday, I was doing my workout at 7:30pm, solo at the Halifax Commons.  It had been a super humid day and there was haze turning to cold fog clinging to the street lights as the sun set.  It was a perfect night.  Because I was solo and tired, I brought my iPod and had it on shuffle. As I got into the second marathon-pace interval, Dixie Chick's cover of Stevie Nicks' "Landslide" came on.  I was listening to this song in my current state of comeback-runner after 6 weeks off. I've been back x 8 weeks. I haven't done any workouts faster than marathon-pace but I've been cruising well at marathon-pace, pain-free. This was also perfect, the lyrics seem to be speaking to me:
Climbed a mountain and I turned around
And I saw my reflection in the snow covered hills
Till the landslide brought me down

Can the child within my heart rise above?
Can I sail through the changing ocean tides?
Can I handle the seasons of my life?

Well, I've been afraid of changing
'Cause I've built my life around you
But time makes you bolder
Even children get older and I'm getting older too
A few facts in the lyrics ring true. I'm getting older. My children are too.
Chronic injury
has forced some changin. The song poses an interesting question: can I handle the seasons of my running life?  Races were coming up.  There would be no PBs.  There would be no wins. I learned/confirmed during my time off that the competitive side of running isn't actually that important to me. I just want to run. I just want to wake up each morning looking forward to who and where the day's run will be with. I just want to train with my friends. I just want to see and experience beautiful things, places and moments in my running sneakers.
So I can want to, say, and think that I can sail through the changing ocean tides but I feel that I need to go and do it to confirm that I can.
I did just go and do it at Maritime Race Weekend.
Sunset 5km, Maritime Race Weekend
This race weekend was going to be unique because I would be racing the same race as six of our
Love Training More Runners,
4 of whom
I coach
.  We don't often run the same races. Early Friday morning I wrote my runners this email as final race prep:
"I took a few moments to think about my 5km race tonight. Personally, I know that I need to do some specific mental prep for 5km because it's the race distance that challenges me the most.  Half marathon, piece of cake.  5km, big challenge. And for you girls chasing your own running barriers, trust me I so get it.  I own the following 5km times:  19:00, 19:01, 19:03, 19:06, 19:07, 19:12.  Seriously. The struggle is real.  This is the barrier that I have been waiting the longest to break through.  Tonight won't be the night because I'm still recovering from my time off but I'm excited to get into the race and get that tough-feeling, regardless of the time attached.
Before a 5km race, I like to write notes to myself.  Sharing them this morning in case they are helpful as you all chase your own 10km experiences tomorrow.
I will line up thinking: "isn't it is wonderful to have the health the live these moments." I am lucky to be able to line up at this race.  Amen.
I will remember that "you are only as good as your image of yourself is."  Luckily for me, my image of myself is probably over-confident and over-inflated right now and I have an elite bib so this is wrapped up. Maybe to my demise, haha, see #4. That will be ok!
I will choose to be brave and fearless.  I will be tough and hang in with the pain.  The moment WILL come when my body gets flooded with race pain and lactic acid.  I will say, "hello pain, I've been expecting you."  And then I will have a choice to make.  I can choose to believe that I've blown my race/time/goal because it feels so (SO) hard in that moment.  Or I can choose to be brave and fearless, understand this is common and expected and plow through and be tough.  I will choose to be brave and fearless and say "Not today, pain, not today."
I will not wear a watch because there are no expectations.  I will be brave and run hard enough to blow up and if I blow up, that's ok.  Aren't I lucky to have the health to put myself in a situation where I blow up.
I will use the water and shoreline next to the race course to manage any negative thoughts.  As the tide washes in and out, so might negative thoughts.  I won't feel panicked or like a failure if they break through my mental guard. I will accept them as normal and expected but as having no value or truth today. I will let them wash back out with the tide
Fast forward to the race. I all-the-way enjoyed warm-up with my Halifax Road Hammers and the easy pre-race camaraderie that miles and miles together brings.  I totally loved the special "Elite" runner pen with our own special porta-pottie. Win!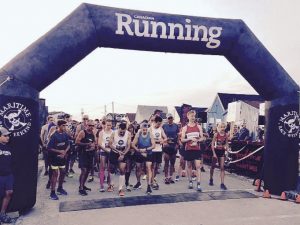 I lined up in front of Road Hammer Corinne who's also been waiting years to break through her own 20-minute barrier.  I think today will be her day.  I tell her that I"m going out and will give her a target to chase and I look forward to her running by me.  She says she'll chase my favourite pink socks. I line up behind Nick because that's my preferred safe start line spot.
Gun. Go. I happily put #s 1 through 4 of my 5km-manifesto to work.  I don't need the last one because there are no negative thoughts. I go out hard and fearlessly and tell myself that I can hang on; to keep at it. Corinne pulls up next to me just after 1km and I'm so happy. We work together.  Happy to see fast guys go past after their turnaround, Nick looks fierce and fast with Lee.  Corinne and I approach the turn-around cone and I give her a wide berth and tell her to get around quick.  She does!  "Go fast" I say and I happily watch her run away.
I enter "gassed" territory by the 3rd mile. I haven't blown all the way up but I'm vo2maxed: wobbly/muscles and lungs on fire.  Here's my choice. I can back all the way off or I can stay at it, be tough and keep pushing the pace the best I can.  I stay at it.  I make this choice over and over.  Giving up would be easier but I stay at it.  Head up, looking for Fisherman's Wharf to loom up ahead. Watching Corinne hammer it up ahead and feeling so happy for that. There it is, the wharf buildings.
I'm ecstatic when I round the corner to the finish chute and see that I can get in under 20 minutes.  19:47.  For a girl who hasn't done any speed work since May: boom. Corinne crushes her barrier with a 19:33. I'm as happy for my teammate as I would be for myself.
I can handle this season of my life.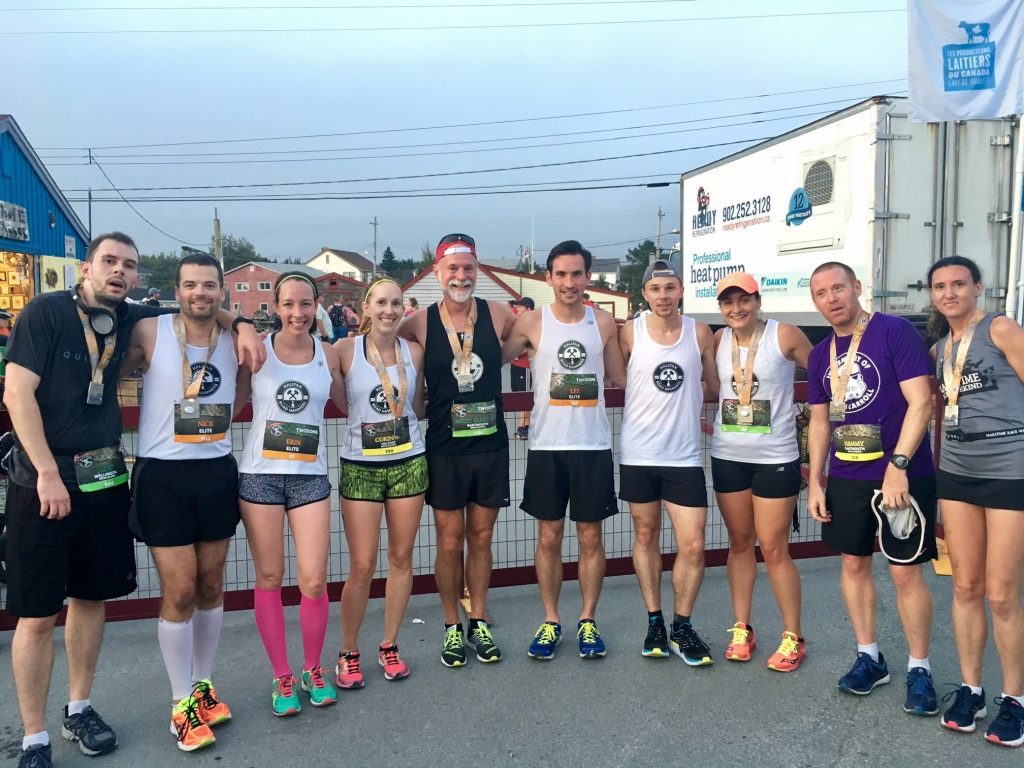 Coastal 10km
Onto Saturday morning. I enjoy my warm up with my sister Kristen and best girl Shauna.  It's fun to see our friends line up. I can't wait to see my Love Training Girls.
I commit to going out at "blow-up risk" and I tell Shauna that she'll catch me. Gun. Go. I feel wonderful.  Until I don't. At the 3km hill, haha!  Shauna pulls up to me and she looks strong. I'm happy behind her up the monster hill and I'm looking forward to coming back down, back on the course so I can see my runners.
Down the hill, oh it's so fun!  I yell for all of my coached girls. I enjoy high fives.  I take it in and smile and wave at the wonderful people who make up our running community.  These are things that I don't let myself do when I'm racing hard. The course turns back onto Shore Road and I settle back in to think about what I doing. Hammer pal Craig is on the bike. Shauna's in the female lead but she's coming back to me ever so slightly. I send Craig up to her with instructions to tell her to focus.  He pedals away.
We get to turn-around cone.  Shauna goes by me and I yell at her: "Don't you let me catch you!"  We come cross the field again and I joyfully high five the girls who I coach again.  My body feels tired/awful/toast but these high fives feel glorious.  Race Director Michelle, who has seriously thought of everything, has placed multiple East Coast musicians on the course.  One of them is actually playing "Landslide."  That's remarkable.
I start to think that 10km is really hard without proper training.  Then I think: Jeez, I raced hard last night! It's the double that is hard! Nonetheless, I know that I will get my slowing body to the finish line and the time doesn't really matter.
I pass a recovering-from-injury runner who I used to coach walking in the 5km.  I'm flooded with gratitude to the have the health to live these moments. I overtake a young guy at about 8km and I tell him to hang on and be tough.  I start thinking about the girl in third place who I'm sure would love my placing and I force myself to stay on as best as my body can instead of reverting to all out easy pace. I close out the race with the young guy breathing down my back and it's super motivating. I tell myself that I am making him work for it and am helping him get a faster time.  I only wish I was running faster so I could also be helping lead-Shauna in the same way, by breathing down her neck, spurring her to go faster.
Hugs for Shauna at the finish and then really wonderful hugs for my athletes at the finish! It's an amazing morning for Team Love Training More. Season bests and a long-awaited and hard fought PB for Amy.  I revel in her emotion.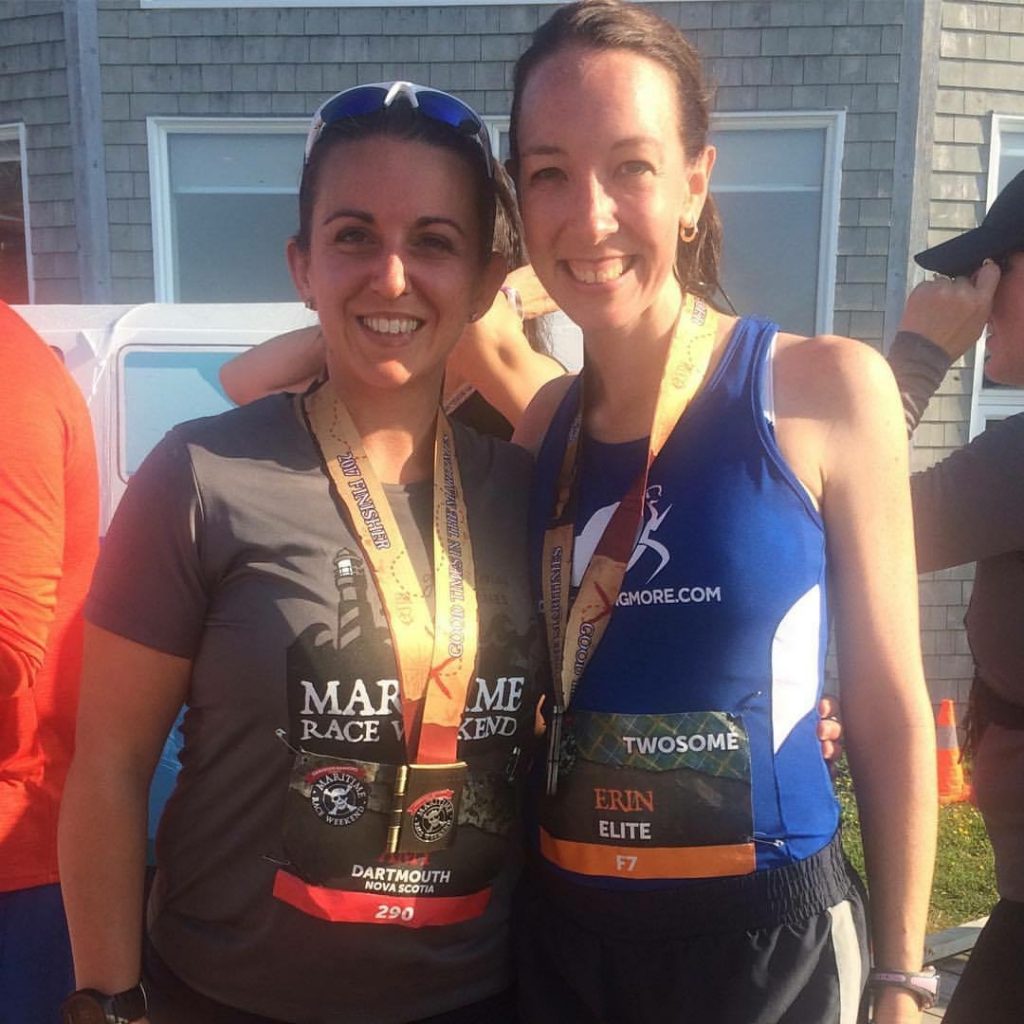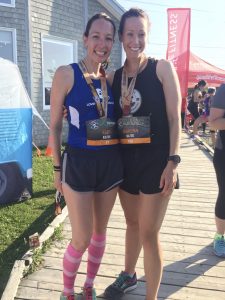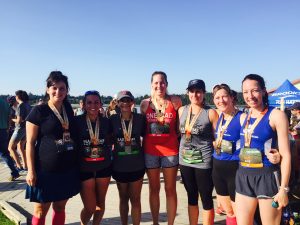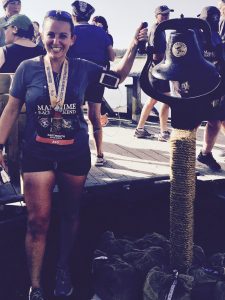 Shauna and I go out on the course to see my sister Kristen in the half marathon. And then Kristen and I do an extended cooldown on the route so we can round out longs runs at 25km (me) and 32km (her) for the day.  We also want to see our friend and training partner Matthias in the marathon. I enjoy the route and the fiddlers and the sunshine some more.
Yes, I surely can handle this season of my running life.
I can't give enough praise to Maritime Race Weekend Race Director Michelle Kempton. Her event was simply amazing. Organized. Efficient. Big scale in a small and beautiful place.  Her treatment of the elite field was top-notch and I'm so glad that I got to hug her at the Saturday finish line to thank her in person for making me feel so special.  Her response was so classic-Michelle: "You are special, Erin!"
Michelle, you are a gem of the same quality as your amazing blinged out medals.
I now leave you all with Landslide.  Thanks for reading.