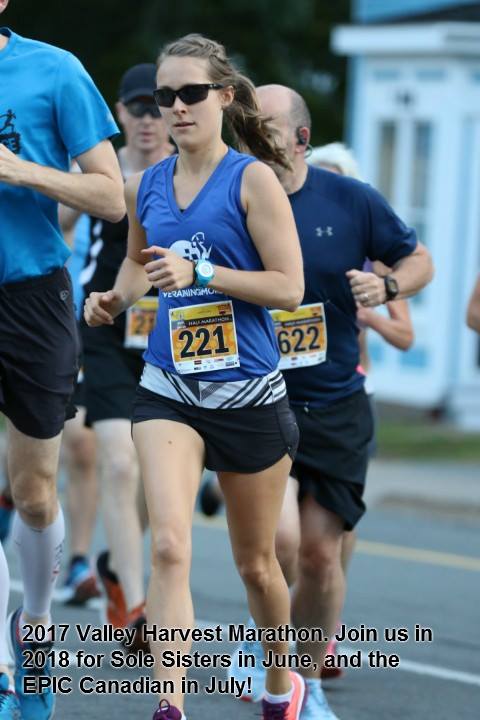 A Lesson in Fierceness: Morgan Conquers the Valley. Again.
October 11, 2017
Intro by Erin:

We are delighted to bring you this Valley Harvest Half Marathon race recap by our Love Training More athlete Morgan.  I've been coaching Morgan for almost 2 years now and it's so rewarding as the coach to see her success.  After a training cycle plagued by a significant injury setback, she made to the start line as healthy as possible and with her signature fierce attitude: ready to fly.  Take it away, Morgs!
Leading up to Sunday, I had no idea what to expect. My nerves started slowly kicking in on Friday, perfectly aligned with carb-loading day #1… but I kept reminding myself that at this point, i've done everything i could have in my power to go into Sunday as healthy and strong as possible.
I had no idea how this race was going to pan out. I hadn't ran 21kms since June, took 26 days totally off for injury.  I had signed up to get a new PB and I didn't know how possible that was.
At the start line, i found a few Love Training More runners which gave me lots of energy. At this point, i was calmer than i thought it'd be. It was already 20C+ outside, and the sun was starting to brighten the sky. I saw the Halifax Road Hammers at the front, not far from my position. By this point, i just wanted to run.
And so we did.
My watch took a bit to connect to the GPS signal so it jumped in .75km into the race. Having done the route last year, knowing what was before me, gave me a sense of calmness and allowed me to plan my attack appropriately.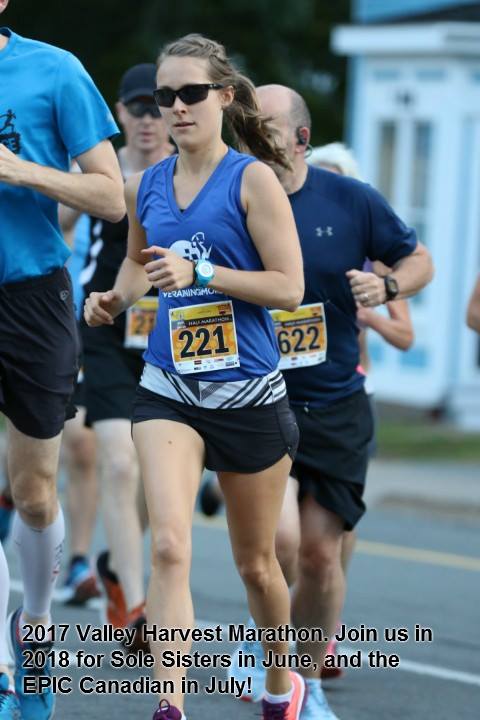 Crossing the flat dykelands into Canning is always a stunning view and when runners start to settle in.  You put distance between yourselves and find your pack. I didn't bring music on this race, i don't really like to anymore, as i wanted to concentrate on my breathing, my pace, and my surroundings. Every 15 minutes or so, i'd do a 'self check' – how are you feeling? how is your breathing? how are your legs? how is your core? how is your head? – this allowed me to focus on strength and play with my pace a bit too.
The sky was so dramatic, stunning. There was the smell of rotting leaves and manure in the air. Cows and farm fields in my sight – so serene.
Water stops were perfectly placed and i made sure to even have a mouthful at each one. Gu gels at 7 and 14km as per Coach Erin's plan. Felt strong. The turnaround point is a favourite part of mine. Its hilly, its hot, but its friendly. its provides power because of the camaraderie being shared between runners of all levels. Cheering each other on, giving someone that extra push they need and knowing you're on the home stretch.
After that, i knew i had 3 hills to go – one that will bring us down into town before crossing back over to Wolfville (Not as bad as i remembered), the Irving Hill, and Hennigars Hill.
I was feeling great – challenged but strong and determined and calm.
After hill 1, i let my legs go. then I knew to keep with tangents for the Irving Hill and at the top of that, only 3km to go. The speed was on now. I passed by many runners and walkers and could taste the finishline.
At the base of Hennigars hill, there was a man doing a live feed for Run NS and he cheered me on and commented on my 'strong run' – that gave me pep in my step!  Then, hill completed.. its time, pain box opened, legs on full speed, core tight, you're done 
in 10 minutes
. GO – leave it all out on the pavement, how bad do you want it? how bad do you want that PB?
I wanted it bad.
I saw the track field, then i saw my three cheerleaders – Mom, Matt (BF) and Ruby (puppy) – i needed this. That last 200m on the track sucks.  You see the finish line but still have the push for that little tiny bit more.
I ran into the finish ling, strong, pushing, wanting.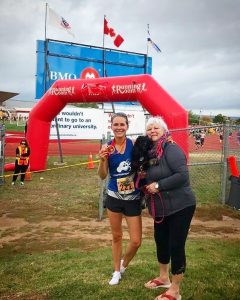 DONEZO!
Got my medal and water, legs basically gave out so i had a sit down. Found my supporters for hugs and tears then found our way to the car… i was awaiting my time to be posted on Atlantic Chip.
And then, the page loaded. I covered it with my hand. I was sitting in this same parkinglot, this time last year, awaiting my time.
Would you look at that? 
1:41
:xx – 5th female in age group, 13th female overall – WTF?! How in the heck did i cut off 5 MINUTES from 2016? WOW.
I SCREAMED. I hooted. I beamed. I TOTALLY shocked myself.
Man, this felt good. 😀
So, another PB, another success and another runner's high.
Thanks so much to Coach Erin – I truly could not have reached this level of success without her. This injury was a major set back. It was physically, emotionally and mentally draining. But with her positivity, honesty, support and planning, she got me to Valley strong. I deeply appreciate her ongoing patience for my 'neediness' and questions. She is wonderful at what she does and inspires me daily.
I did it – new PB!!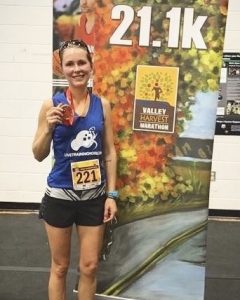 The end by Coach Erin:  Morgan is a great athlete and more importantly, an amazing human being.  She overcame a lot just get to the start line.  26 whole days with no running.  She kept it together, was extremely coachable and did a great job trusting in the process.  I think that's the coach:athlete relationship at it's best.  
And then she still went out and did it and did it fearlessly. She has an inherent fierceness that is so valuable.  That fierceness is a very difficult skill/trait for a coach to teach an athlete.  I know she has it and that lets me just craft a race plan that lets it come out.  I knew that she'd be flying those last 3km if her body felt good. I knew that she would run 0-16km really smart to get there in the best position possible to get into the pain box and fly. She's so good at getting the best out of herself on race day
Sidebar: I do tease her about her tendency and superstition to not look at her race time until she gets to the car to look at Atlantic Chip or see a text from me!  
My hope is that she bottles up that feeling of elation that she felt when she finally saw her time.  If Love Training More could sell that, we would all be rich!