Taking a Risk: PEI Race Weekend
October 15, 2017
This was PEI Marathon Race Weekend: a weekend that this native Island girl loves so much.
I love this weekend home. I love to travel with my two little kiddies. I love being at my parents' home and spending quality time with the extended family. I planned to run the 10km but first it was my daughter's turn.
This was my daughter 5 years ago on PEI race weekend: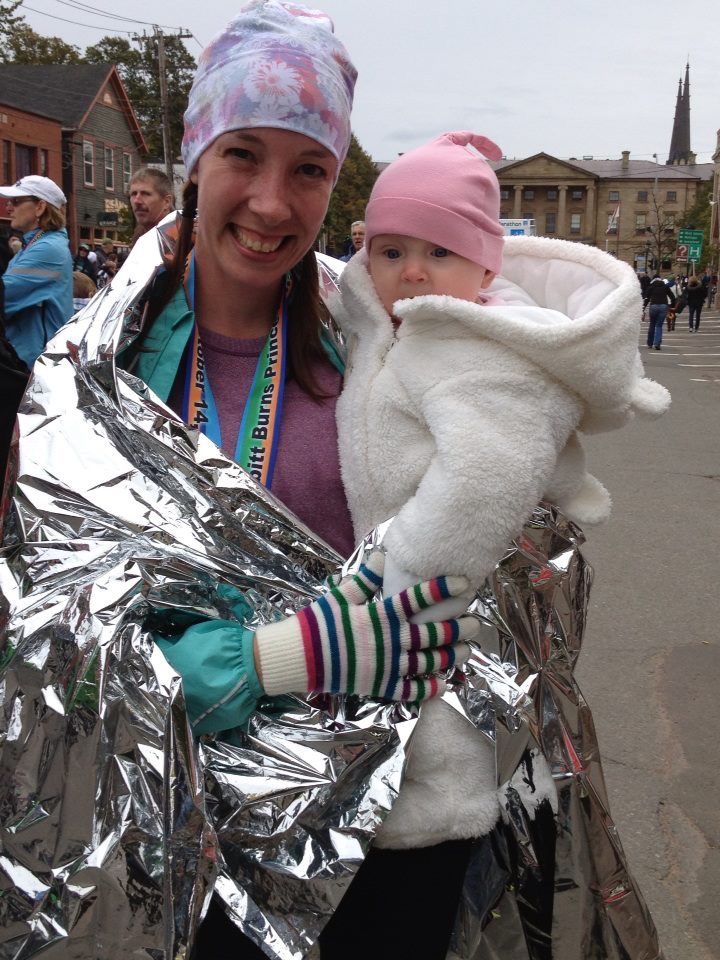 Fast forward 5 years, this is her at age almost 5 and a half: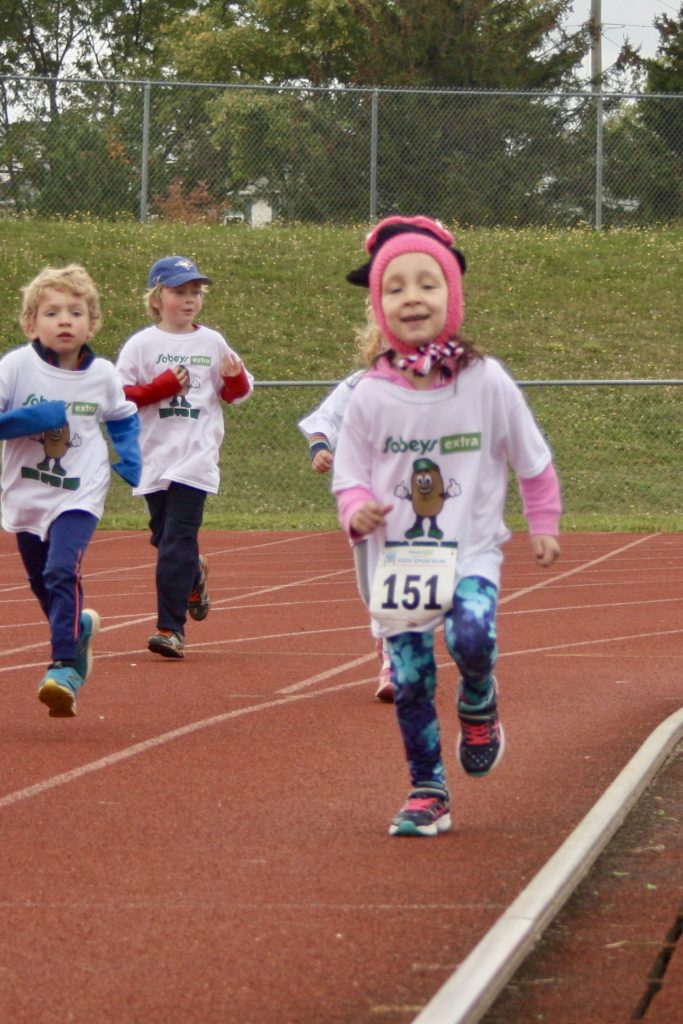 Heart is full.  I don't ever pressure her to run.  My 3 year old son decided at the last moment that he didn't want to run and that's totally ok.  But my girl, she organically loves it.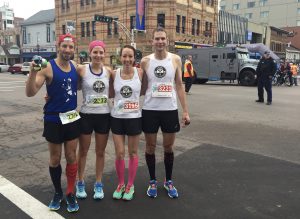 Back to the 10km.  I would be racing with my training partner Damian and out there with my Halifax Road Hammer teammates Jennie and Michael and a few others and that's the way I love a race weekend best. Bonus this time: a few of the Love Training More athletes who I coach would be there too.
I asked Coach Lee on Wedneday, pre-last-workout ("workout" as I've only been running at marathon pace of 4:25/km in workouts): what are his thoughts on 10km for me? I would be doing 5 x 2 minutes at 10km for workout. The only work faster than marathon…. of training.
Coach Lee: "all things considered, 4:02/km"
Me: "ok. 40:00 10km coming up."
Coach Lee: "Don't you dare.  You have to stop with this."
Me: "bahahaha."
But seriously.  I just accidentally ran 44:01 at Run Rummer's over 10.9km to add to my 3:03:00, my 1:28:00 and my 19:0x all in the last 12 months.  What else could the outcome be?  I've already run 40:12 on this course in 2015, hehehe.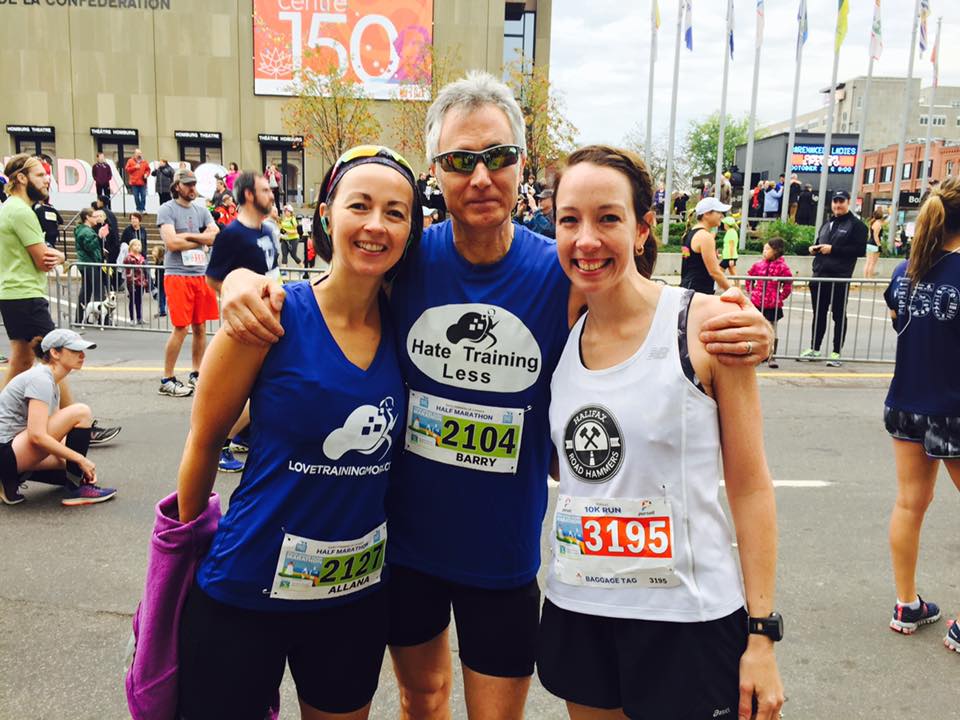 Race morning comes and our warm up  is lovely and conditions are totally perfect.  Damian and I will work together.  After the race, the plan is for me to get to 2.75km to go to pace in Jennie for her sub-90 half marathon quest. Then I will go back out and pace in a Love Training More runner.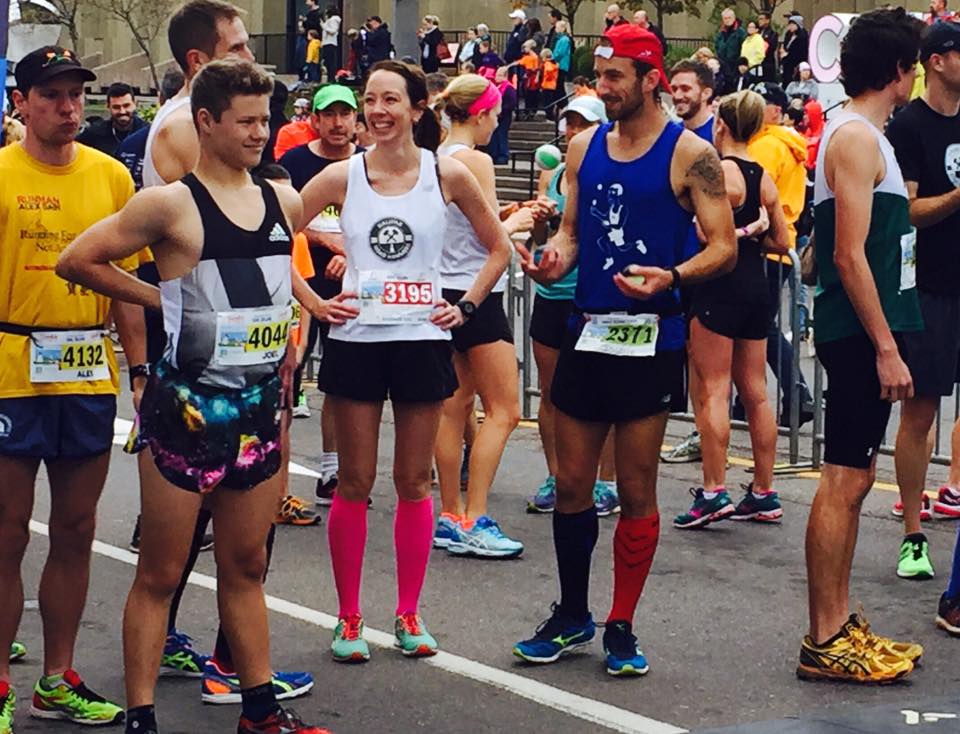 The gun goes and Damian and I get out together and we know what to do.  We work together.  There's no talking, there's no need.  I do tell him where to run on the road because these are my streets: the streets that I grew up running on.  I know them as well as I know my address.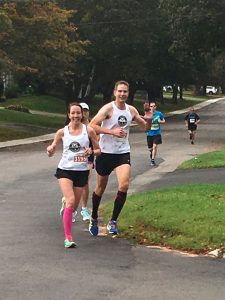 We wave at my daughter and my sister.  My plan to get to 7.25km and then to go.  The last 2.75km are all downhill.
Most of the race field turns off at the half marathon course. We are each silently excited at how far ahead Michael is. We get to 7km together, stride for stride. Now there's one guy ahead of us and I start to get excited.  Is this the lead guy.  Oh yea.
So I believe this to be the lead guy and he's not within reach yet but he's coming back to us.  I am in a good head space, I'm ready to work hard and hurt and I'm all "jazzed up" by these things:
I watched National Geographic's Breaking 2 documentary this week and was super inspired by Eliud Kipchoge's "don't ever put limits on yourself."
I also thought a lot this week about my PEI 10km two years ago where I placed 2nd overall and first female but feel like I didn't work hard enough to chase down the guy in the lead.  I could see him. I didn't take a risk and I didn't try hard enough to chase him to win outright.
I've been talking to all the athletes who I coach (high school and adults) about taking a risk in a race: getting yourself to a point where it's almost closing time and taking a risk. Sure you might blow up but nothing bad is actually going to happen. You're close enough to the finish line, you'll still get there.  But on the flip side, something magical might happen if you take that risk.
Damian and I don't talk in a race and there is no need for parting words. So I can see this guy and I've got no limits and I'm ready to take a risk so I take off after him at 7km.
Of course you are thinking that 7km is TOO EARLY! But we hit the downhill and I just thought that if I could get within reach, I could hold on to him. In the end, it was too early but I worked really hard until I could not work hard anymore.  It seems that this runner also watched Breaking 2 this week and also was a badass risk taker.
At 1km to go, I was full on pain-boxed (that's a verb now) and I could hear Damian's footstrikes again and told myself to run still as hard as possible and then he'd run faster too and we'd all be happy.
Then something truly magical did happen.  For this first time in my running career, there was a finish line tape for the winning female to break. That was a magical career moment: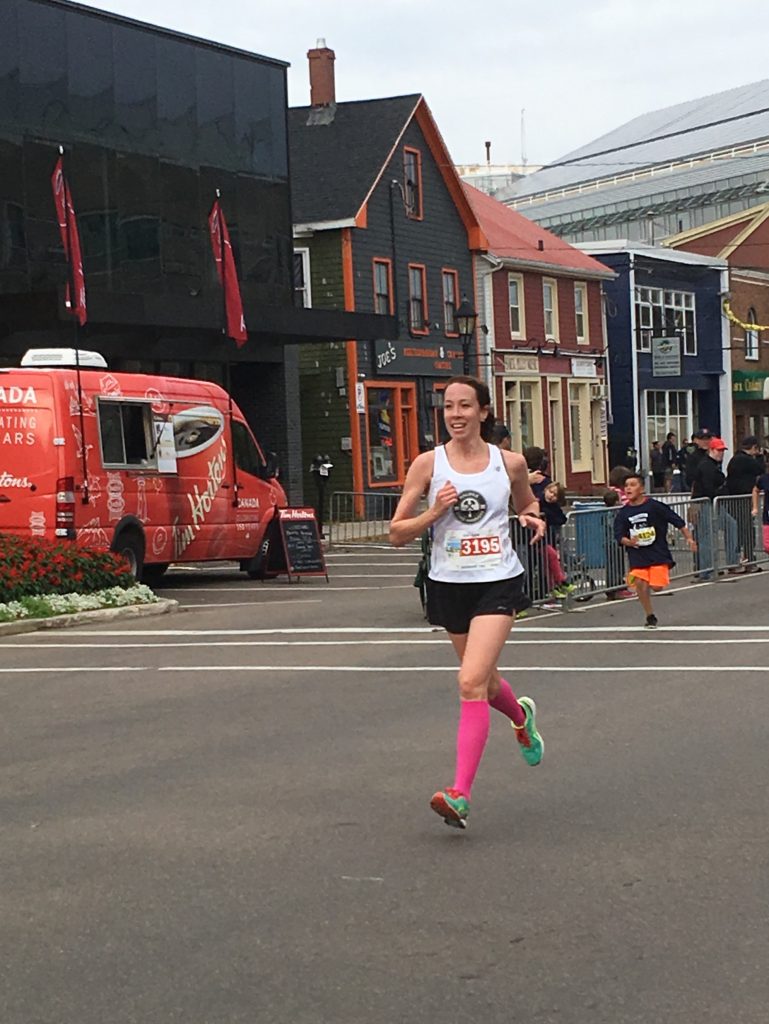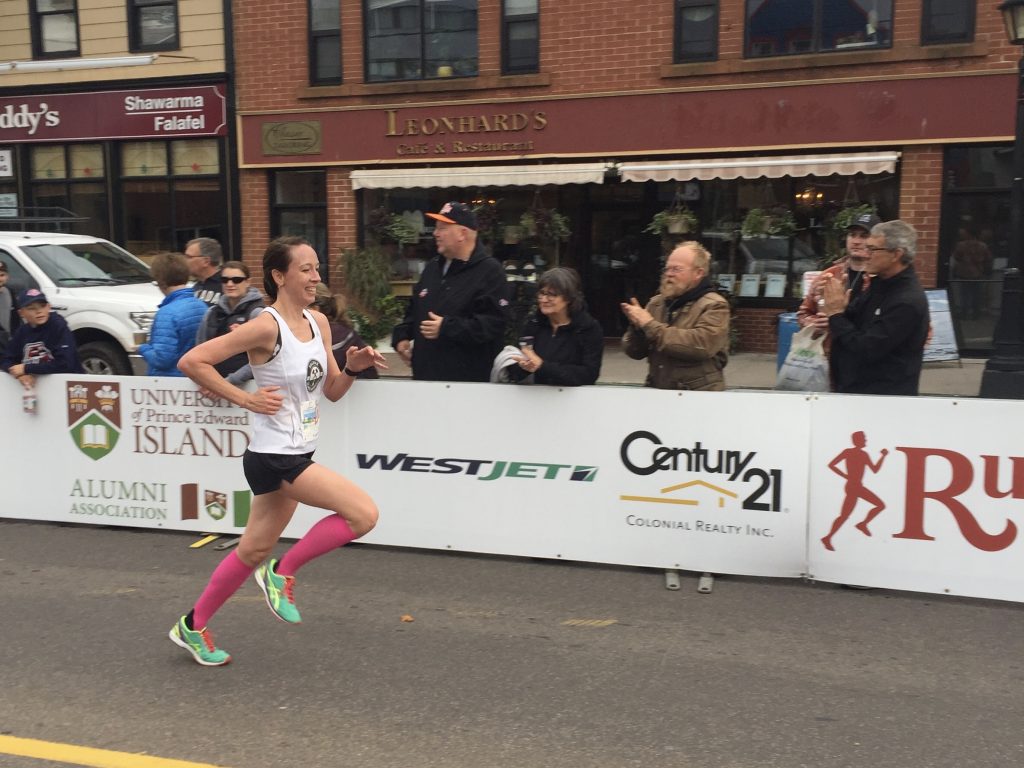 I cross the line after joyfully breaking the winning female tape at 40:36.  That's as good as my fitness and my risk-taking should have me run.  I got the best out of myself today.  I'm happy together with Damian, he got the best out of his post-injured body today too. And then I laugh and laugh when I find out the dude who I thought was the first place runner was actually the 3rd place runner!
Now I have to get to work and get back out on the course to pace in my girl Jennie who is so ready to crush the 90-minute half barrier.  And she does with gusto.  She had this all along, I was just the "give-up protection."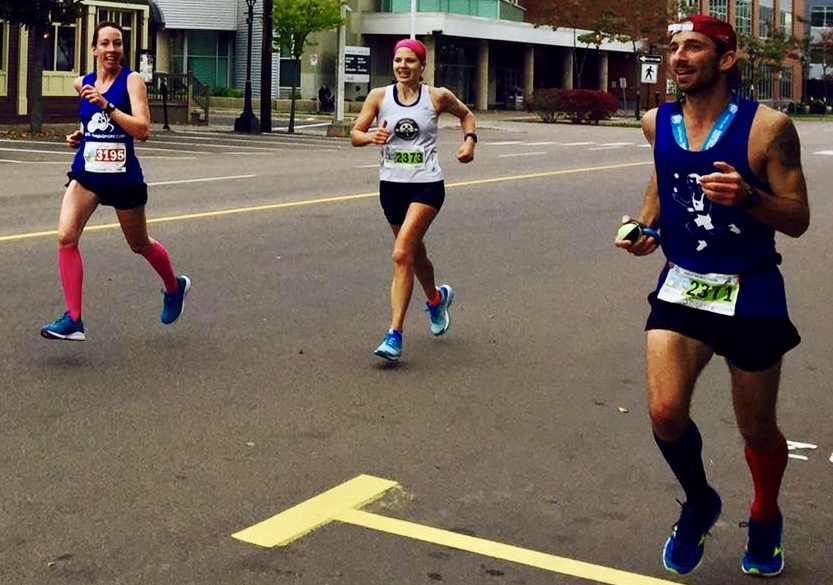 I loved this pacing job.  I knew Jennie was ready to hurt for it and I could see that her runner's body was all the way ready to let her perform and hurt for it. It was awesome giving out those cues and seeing her respond so grittily and beautifully, all the way to a 1:29:29 (!!!!).
Then my final pacing job of the day, also a blast and he avoided a "Poirier" and ran a 1:57:56!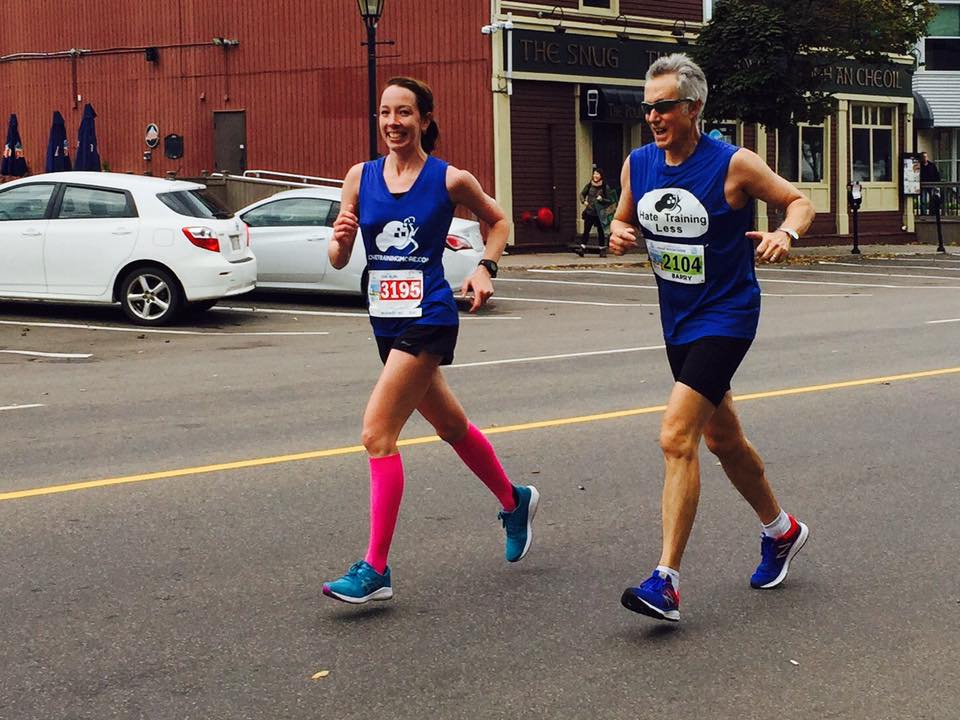 I read this somewhat cheesy quote this summer, when Coach Lee wisely benched me x a month to get on top of my chronic childbirth related injury: "She stood in the storm and when the wind didn't blow her away, she adjusted her sails."  I adjusted my running career sails.  This weekend was full of joy.
The adjustment worked.