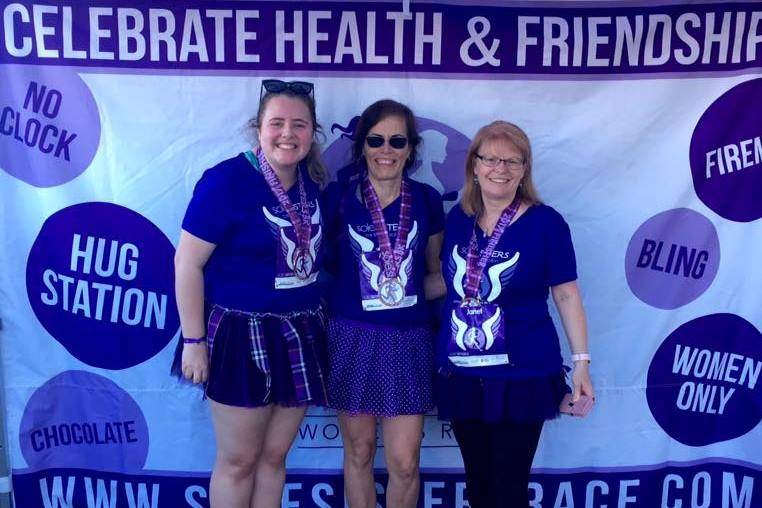 Living these moments in a sea of purple
June 16, 2017
Sole Sisters  5k – My Recap by Janet Hoyt-D'Eon
This past weekend I joined 3,000 women running and walking the 6th Annual Sole Sister 5k race.  It was a sold out race.  Sole Sisters isn't a timed event so no pressure.  You can make it what you want it to be. Some ran, others walked.  For many it was their first 5k race. Spectators and competitors alike cheered and supported one another. There was a wonderful spirit of camaraderie, pride and accomplishment in that sea of purple and pink shirts.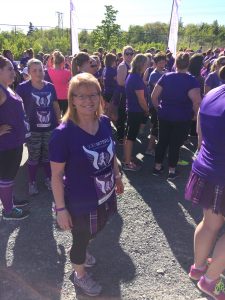 My Journey
Sole Sisters 5K is an event I have been eyeing up for a while.  I loved the idea of women of all ages and abilities joining together for a run or walk, celebrating friendship and fitness.  The pictures and the stories from the women participating in previous years were joyful, inspiring and empowering.    It was also reminiscent for me of the Women's Bonnie Bell and Tuft's 10k races that I had enjoyed running in 80's.  I wanted to be a part of that again.
 2017 – My Year to Return to Running
I decided that 2017 was my year to run Sole Sisters.  In the back of my mind I wanted to train and run the 5k.  For the past couple of years, chronic back injuries have sidelined me from doing the sport I loved since I was 12 years old.  This year I thought, I am going to give running another go.
My Plan Hits a Road Bump
Sometimes things just don't quite work despite our best intentions.  This would prove to be the case on my journey to the Sole Sisters 5k.  It started over the Christmas break when I woke up one morning with a couple of numb toes in one foot and pain in my hip and glut.  Hmm I thought!  Morning stiffness has been the norm for me for a long time but the numb toes were new.   I quickly got myself in to see my chiropractor and massage therapist and I found some relief but unfortunately it was very temporary.
If I Can't Run, I Will Walk
Not to be deterred by this setback I decided on the first of February to register for Sole Sisters.  I had five months to heal and I was going to be on that start line.  If I couldn't run it, I decided I would walk it.
Things Go From Bad to Worse
Well over the next six weeks things went from bad to worse.  I was off work and my weeks were filled with visits to physiotherapy, chiropractors, massage therapy and my doctor.    Every morning began with a hobble to breakfast with spasms in my glut, searing pain and pins and needles shooting from down the back of my leg to my toes.   Alternating ice packs and heat, muscle relaxers and heavy duty pain medication which left me in a haze, was the only way I could calm my pain.   I stood for most of the day or would lie on a mat on the floor as sitting, walking any distance and driving anywhere was excruciating.   Much later I would learn that the root of my pain was a herniated disc and some other degenerative  issues with my spine.
Will I Be Able to Walk Again?  Will I Be Able to Work Again?
I began to wonder and ask the question not "will I ever be able to run again?", but "will I ever be able to walk again?" "Will I ever be able to work again?" Seven weeks in and I was not improving.
As a runner, I had experienced many injuries but nothing like this.  I told myself Sole Sisters was out.
Finally Turned the Corner
In mid-March I decided I to take a break from all my rehab until I knew exactly what I was dealing with.  I was still struggling and there were times I came home from rehab in more pain.   I had been waiting since January but I finally had an appointment for a CT scan at the end of the month.  This break proved to be what I needed to turn the corner.
Sole Sisters is Back On
The first of April I decided to start back walking and get myself to that starting line for the Sole Sisters 5k.  After being inactive since mid-January that first walk of 20 minutes was so slow yet so hard. Reality hit me just how out of shape I was.  I had never been here before.
My Training Plan
My training plan was to walk easy every day and try to get a little further each week.  I told myself not to worry I still had lots of time to prepare.  Well two weeks in and I quickly realized this plan wasn't going to work.  I was sore and hurting from trying to walk every day.  I did not want a relapse and repeat of this past winter.  I needed to find an alternative way to get my fitness back so I could walk that 5 k.
Pool Running – Ugh! – O.k. I'll Do It
Finally I reluctantly decided that the pool needed to be my alternative.  I had been encouraged by many to get myself to the pool as this was good therapy for my back.  I'm not a keen swimmer so I decided to dig out my dusty pool belt and start pool running.
Reconnecting with My Inner Runner
I will never forget that first plunge into the deep end of the pool.  Cautiously I started running and after   a couple of laps I began to feel utter joy. For the first time in a long time I felt like I could run!  "I'm running!"  I found my stride. I found my form.  It all came back.  It was awesome!  My 30 minute pool runs increased to 45 minutes, then to 60 minutes with intervals.  I never thought I would say this about pool running but I loved it!
How Fast Can I Go?
With pool running three days a week, my two days of walking each week got easier.  Within a month of this training regime I had my distance up to 5k.  Once I knew I could walk the 5k distance then I started to try to cover the distance faster.  Again that inner runner appeared.  I borrowed my husband's Garmin timing my kilometres, trying to pick up my pace, seeing if I could improve my overall time.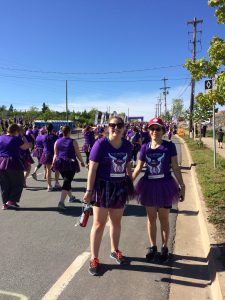 Race Day
As a runner, setting goals, pushing myself and challenging myself to achieve personal bests has been ingrained in me since I was young. It is something I love to do.  Although I wasn't to able run Sole Sisters this year, I used those same training principles and attitude to get myself to the start line.
"Isn't It Wonderful to Have the Health to Live These Moments"
This year I celebrated being able to start and finish the Sole Sisters 5k.   It wasn't the journey that I expected to take but it is one I am very proud of.  Love Training More head coach, Erin put it so it so well when she shared how she brought the attitude, "Isn't It Wonderful to Have the Health to Live These Moments" to the start line of her recent 5k race.  I agree whole-heartedly.  Those were my thoughts exactly how I felt at Sole Sisters on Saturday.
Hats Off to Stacy and her Volunteers
I want to give special thanks to race director, Stacy Chesnutt and all her volunteers for putting together such a well organized event.  It is great to see a local all women's race back again.  It is the only of its kind in Atlantic Canada.  For those of you who missed it, she has another one set for October with 5k, 10k and half-marathon distances.  Your choice timed or untimed and for those of you who like to race, this course is fast!