No Zero Zero: SMU Indoor Open 3000m recap
February 11, 2018
This weekend was the SMU Indoor Open Track and Field Meet at Canada Games Centre in Halifax.  For the regular people readers, this is a university track and field competition where the "open" means that clubs and individuals are welcome to compete as well.  Including this "Old Doll" master track athlete.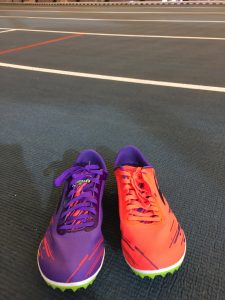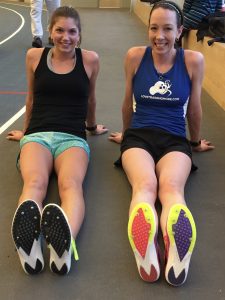 Four of us Halifax Road Hammer athletes would be competing in the 3000m: myself, Lindsay, Courtney and Kali.  Lindsay and I have been preparing together on the CGC track instead of going to Halifax Road Hammer road practices.  Both in fast love with the thrill of indoor track racing, we both purchased track spikes from Matthias at Aerobics First for this race.  It's been a blast wearing them for workouts.  We were psyched up and ready for some fun Saturday evening.  
Going into this second track race of the year, I did some required mental preparation.  I focus lots on mental preparation with the athletes whom I coach with Love Training More.  Time to do it for myself.   I set my keyword as: More. There's alway more. The goal was to find it.
Last time I held on and didn't give up. This time, I was after more.
More. Harder. Beast Mode.  I don't ever feel like I am defined by a race time or a number on the clock. But I can define myself by the effort I put forward and how hard I try.  I want more.
And "be precise".  Those were my other keywords.  After the last indoor race, where I opened with a 41sec lap, my coach Lee winced.  My friends had yelled at me.  41 sec is way too fast.  "Track is a precise event."  That's what I've been practicing in workouts at on the indoor track and it's been really helpful.  I went out last night with the goals of being precise and looking for more once it gets so painfully hard.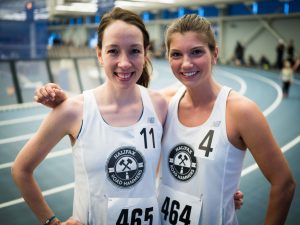 Lindsay and I went through warm up together.  It was a serious full house at Canada Games Centre and I was hoping some people would leave after the 300m event.  I was so happy when Road Hammer friends began showing up.  Denise was already there with daughter Ashley who was in my heat.  Shauna came.  Jer and his girl came.  Blair was there to see his son.  

Just as warm up ended, I had a quick chat with Blair, my co-coach with my high school running teams.  He could be my stand in coach today.  He asked how I was feeling.  I said I was after MORE today.
He replies, "Then you will find it.  I will be yelling, you'll hear me.  When you think you're done, youv'e got 40% more."

I say that I believe him.  A retired Air Traffic Controller is very good at math.  
I line up to find this 40% more.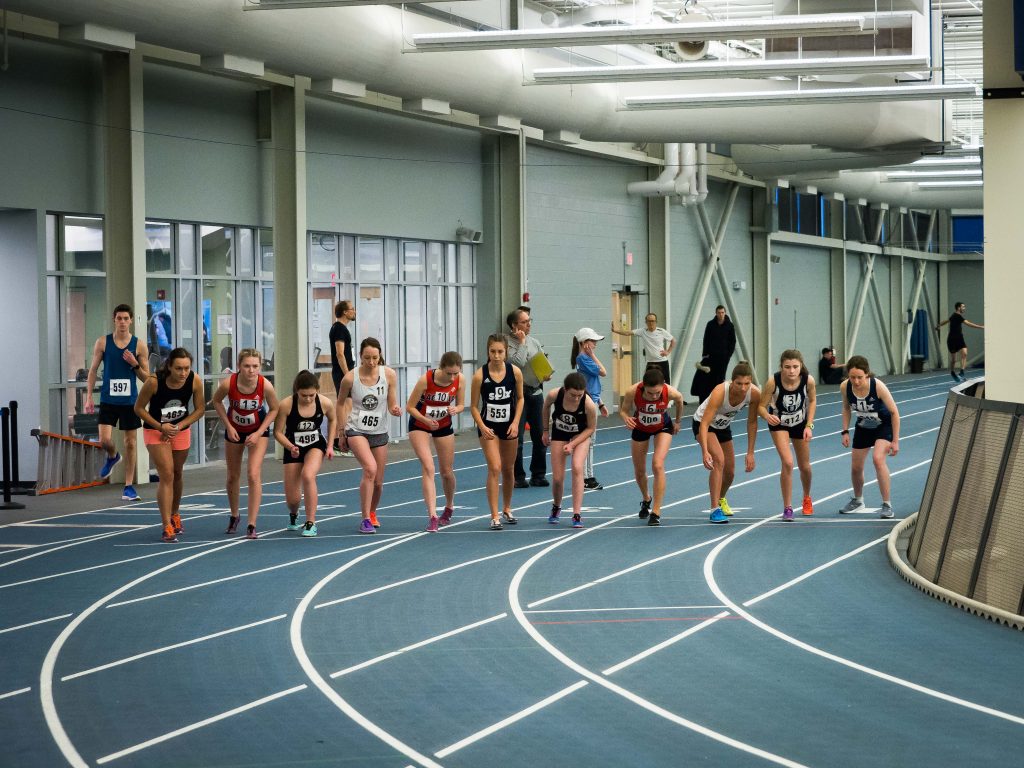 It was a pretty awesome race.
I was patient. 43-44sec laps were the goal.  I came up with mostly 42s and 43s laps but I was confident this was good.  The first km felt really comfortable and in control.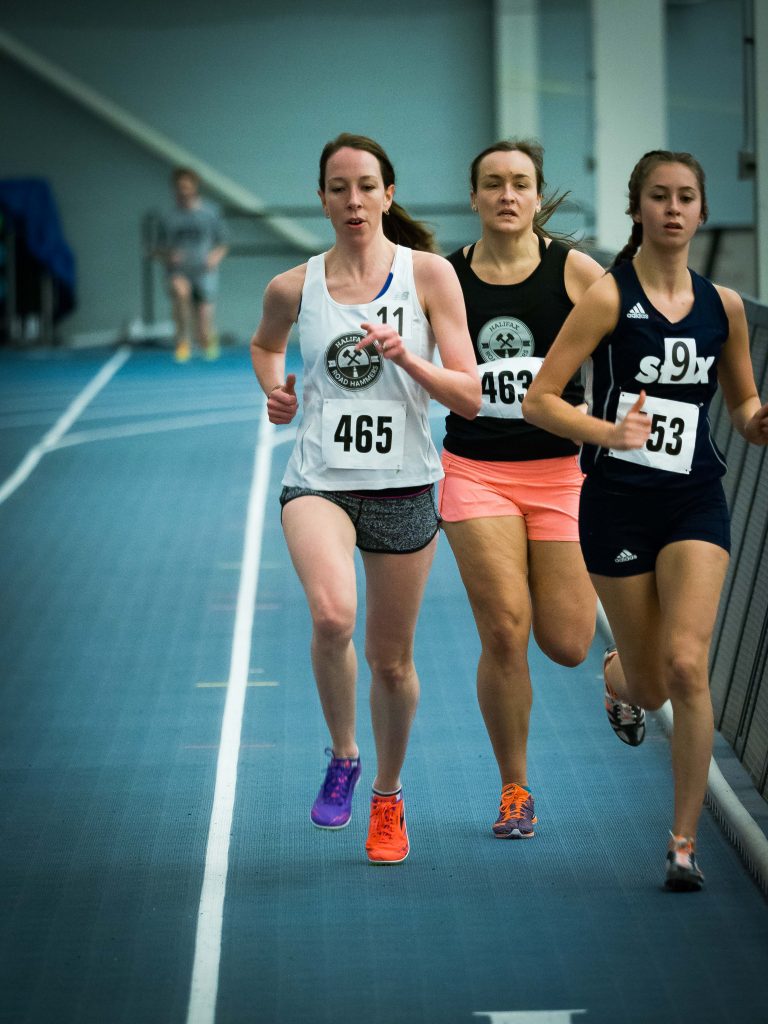 Then I tried to get to mostly 42s for the second km and I was pretty excited that I was doing it.  I had those thoughts ready to help focus but I actually didn't need any.  I didn't think about anything except 42sec laps and "dont **f this up" which is what my husband says to me before every race.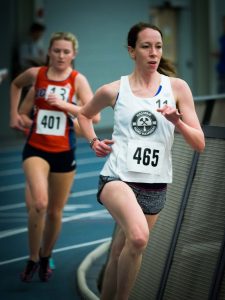 The laps went by fast.  I couldn't believe when I was into the 3rd km.  I passed three runners and I was patient, I didn't pass until I got a lap split of 42s.  I'm in love with my track spikes- they are life.
I got to 800m to go and I no longer knew what to do in terms of strategy because it's so hard for brain to work so I just kept trying to run 42s. I was pretty sure I would get the sub-11 if I didn't **f it up and I was probably a little hesitant to pick it up and hammer all the way the last 400 because I was scared of blowing up and blowing the sub-11.  I did hammer the last lap though it might have been my slowest.
I felt strong and confident and this was the first time I've felt confident on the track.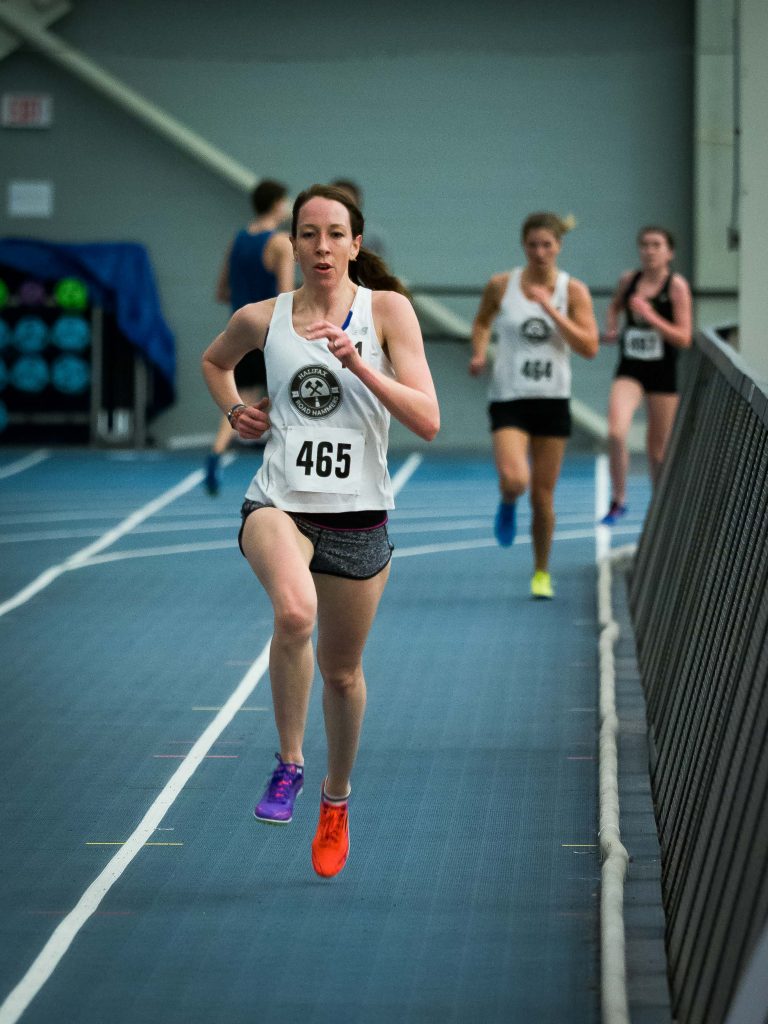 We were  unsure afterwards if I ran the 10:59 or if it would be 11:00.  Denise there, she was like, no way with the :00.  I chatted with and thanked my friends and explained was a cooldown was to rookie Lindsay who had just won the race with a serious beast mode performance.  As Lindsay and I traded spikes for regular trainers, I took out my phone to check the live results.  Joy and a whoop when I saw that I was the right side of a race clock for the first time ever.
10:59.95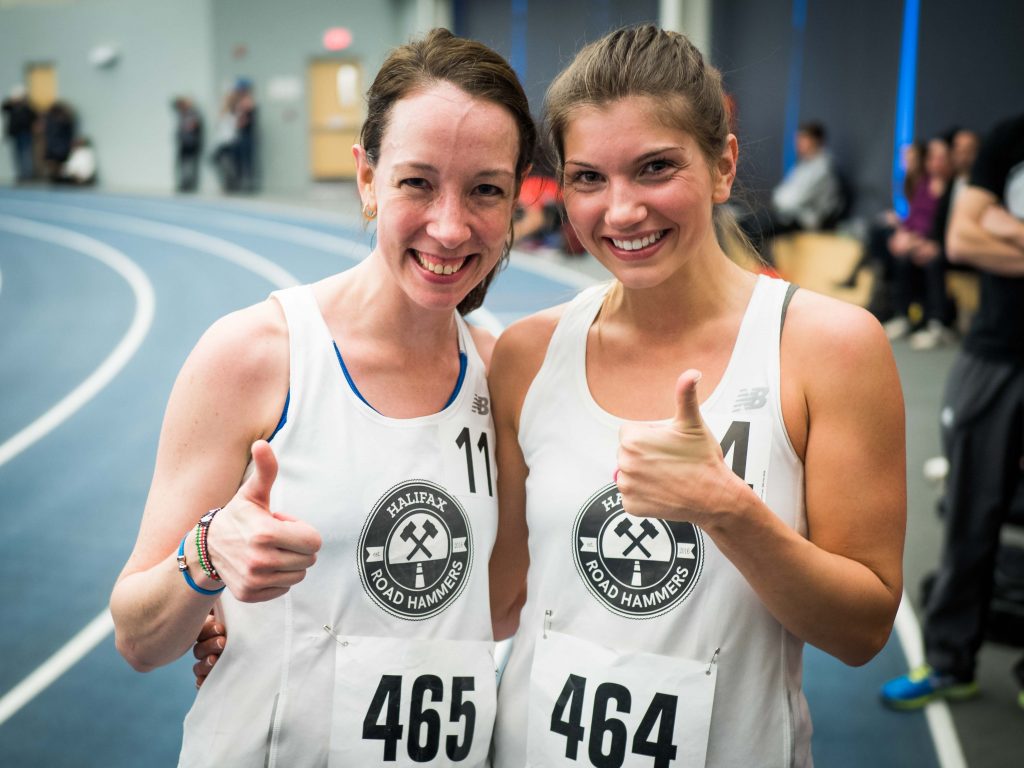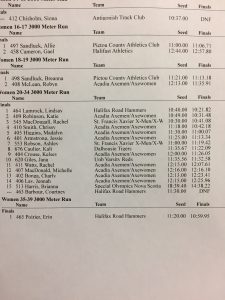 I placed 5th out of the 20 runners, mostly collegiate girls, and behind my training partner Lindsay who was first.
I didn't get any lactic acid rush and I recall that the last lap was tremendously hard but any other hard feeling has now been cancelled out by the elation of the PB and smashing through the sub11 barrier.
Thanks to my coach for the track workouts and the "be precise" order.  Thanks to Lindsay for the #bettertogether fun.  Thanks to my sister and the friends and substitute coach Blair for being there and for the yells.  
Now I need to get back to my marathon training for the next 3 weeks!