The 3000m Postmortem
January 21, 2018
Buoyed by my Halifax Hypo Half Marathon performance on Jan 14, 2018, I signed up for the Athletics NS Indoor Open and Club Championship 3000m event, 5 days later.  I signed up quickly, before I could change my mind.  I really enjoyed my 2 indoor track races last winter as exhilarating/terrifying/growth experiences. 
Like me, many of my running friends and many of the athletes who I coach, don't have a track background.  So what I have to offer you with this blog post is a postmortem of sorts of my 3000m race, lap by lap.  Rest assured, all of you Hammer friends (Lee, Jamie, Nick, Dave, Linda haha) who are consistently after me for breaking the "race hard rules" (chatting, pretty photos, remembering too much for a blog post etc), pretty much the only thoughts in my head during the race were "stay fierce" and "get to Matthias, hear the split."  I will call this a postmortem because I pieced it together two days after the fact after getting the idea on the long run with Shauna as we dissected my race together.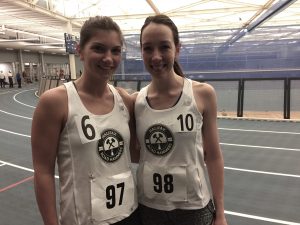 3000m on the indoor track is 15 laps so here it is, lap by lap.  As it unfolded, I was the only female NS Masters  athlete in this event.  Our NS Masters standout Paula was focusing on the 1500m.  My teammate Lindsay was with me. She's in her 20s. My Road Hammer Old Dolls were a combo of not healthy and not prepared.  Just me. I was in the fast heat comprised of fast teenagers and university girls, runner 10 of 11.  My Road Hammer guys Nick and Matthias were standing at 25m and 100m.
3000m in an indoor track, lap by lap:
Gun. Go. OMG, I am going to be last in this heat.  It's ok.  OMG, this is too fast. Nick is going to yell at me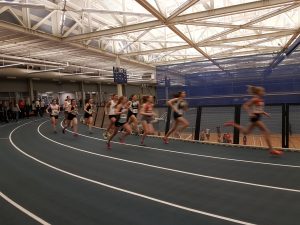 2. Nick is yelling at me. "41sec first lap. Way too fast!!!  Settle down!!!"  I hope I'm not 41s-screwed. Choose confidence.
3. Matthias. Splits. 45 sec. He says good.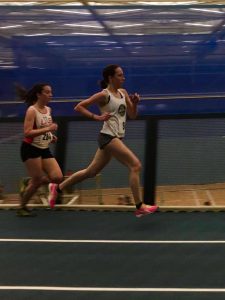 4. Matthias. 45 sec.  Settle in and hold.
5. Legs are strong and body is tall. Cycling through mental body cues. 1km but can't hear the 1km split.  How are there so many numbers in the air?
6. Oh look, there is a race clock. I'm doing it!  Legs are powerful. Get to Matthias and the number.
7. Still at 45 sec.  Party.  Fierce.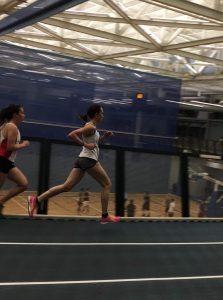 8. Bad surprise: flipping post-childbirth problems. Shake it off. Be fierce.
9. Nick is yelling loudly.  So many words. Is 9 + 6 = 15? 6 laps is an eternity (it's less than 5 minutes)
10. 2km done, 1km to go. I am good. Nick is yelling.
11. "Hello pain, I was expecting you." Spoken in Nick's voice, WTF.  Not today pain. I don't give up.  But maybe I'm losing 0.5sec a bit regardless.
12. Arms flood with lactic acid.  Nick is yelling to want it and go now. "You have to go now!" I'm not sure how to.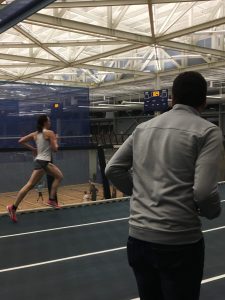 13. Official says numbers. Numbers make no sense.
14. Matthias says get up on toes. That makes sense. I can do that.
15. Home lap.  Quicksand. Wish I hadn't discovered the clock as I no longer care when I see it clicking 11:15, 11:16…. Feels like I'm now running 6:00/km.
Post-race:
I am happy with this execution. With the exception of my WAY too fast lap one, I mostly ran 45s laps. I had the best 1000 to 2000m I have run in my grand total of 3 track races. I didn't give up, I kept at it when it was hard.  As our Love Training More athlete Carlton suggested, "hard is a label that people choose for something."  Instead of choosing to view this is as "hard," I achieved viewing the physical body sensations as "I love pushing my body."
This was 23 seconds off my PB and with some encouraging variables. I opened the winter indoor track season with an 11:24 last year and I would say that I felt way more fit in January 2017.  My aerobic base is good right now but I haven't been running very fast. I haven't seen 3:49 km's in a workout since May 2017. The fastest session I have had this cycle was an 18 x 1 minute session with an average pace of 3:53/km.  I finished last in my heat and I don't care.  It's still faster than the whole second heat.  I am an Old Doll.  Someone has to.
All of this I will take along with some important lifelong runner lessons over my races the last 2 weekends.
The Hypo Half was significant for me, both confidence-wise and running career wise.  Going in to this race, I didn't quite know what to expect except that I'm way off my peak fitness.  I lost the second half of the year 2017 to pelvic floor injury.  I was in the first 4 week block of my first marathon build since Nov 2016 meaning my first 80km weeks in 14 months.  I knew that I certainly wasn't ready to run close to my PBs (1:26:12)  or previous faster half times but knew that I was ready to go and have fun and enjoy what I love doing, surrounded by a community that I love.  That was the confidence part.
I ran a 1:30:23 good for first place woman and 6th overall, on a day with many of the athletes who I coach racing and excelling next to me.  I was thrilled. I got the best out of myself and ran faster than I thought I could.  My best section was actually the second long uphill from 11-16.5km on this out and back course.
Here is the running career part. Confirmation of an important lesson.  You can get that runner's high feeling of nailing a race and being proud of the race execution independent of the time on the clock.  I hate lining up for a race with enthusiasm and then feeling like the result and my performance wasn't good enough.  But I can choose not to race like that and I can choose to line up anyway, independent of current fitness because there are better choices to make.  Choosing to love the sport.  This lesson fuelled runner's high led to the start line of the 3000m race at 8:10pm on Friday, five days later.  This lesson was there on the track too.
Fancy Running Quotes Section of the Blog Post: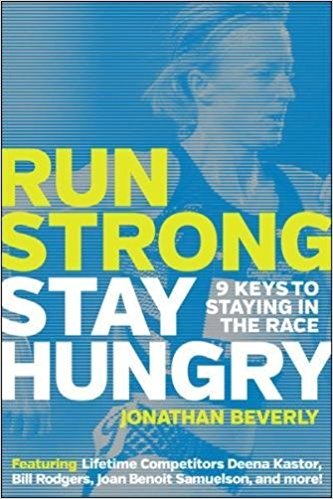 I almost always have one running book on the go so that I can continue to expand my running knowledge for coaching.  Right now I am reading Run Strong, Stay Hungry by Jonathan Beverly: a book about lifelong competitors and masters runners. There is a great chapter on on the amazing Joan Benoit Samuelson.  It talks about the strategy she uses to stay hungry over a lifetime.  It's a strategy that many lifelong runners and competitors use. This strategy centres on how you can make the numbers irrelevant. Joan Benoit Samuelson is no longer trying to win Chicago or match her 2:21 PB. She's getting in the miles, staying healthy and racing tough just as she has her whole life. That's the same challenge that she's faced for the 40+ years of her running career. The numbers are irrelevant.
"Runners who can adapt their view of what it means to be competitive and what constitutes success will never run out of challenges or satisfaction." Jonathan Beverly
The next challenge awaits on the 15 lap track in February.
Now thanks again to my Road Hammer Running Family for making this challenge so special and fun (and I mean fun in the brutal lungs burning, arms full of acid, legs on fire, loving to push your body that hard kind of fun way).