Road Runner Ventures into the Woods
November 26, 2017
This Road Runner made her trail race debut today at the NS Trail Runner's Flying Nutz 10.5km trail run in Black Point, NS, off the the Bowater Logging Roads.  Though the word "road" definitely doesn't belong in this sentence.  There was nothing related to a road today at all!  I want to capture these highlights for my own memory bank but happily share, understanding and not caring that all you trail running vets will laugh at this trail running rookie.  I asked Love Training More athlete Allana, who you will meet in a moment, to do the same.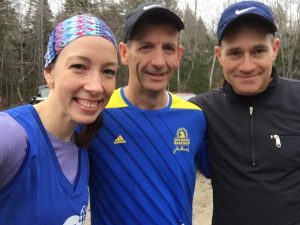 Allana, an athlete who I coach, told me about this trail race after she registered. I immediately wanted to do it.  In terms of my running, I am wanting and needing to shake it up and try new things. I feel like I've done enough "3,2,1 minute" workouts to last a lifetime.  My spring goal marathon is Big Sur Marathon which has a mountain in the middle. I've been super interested in trail running from my Friday 5am Friend Rick.  My training partner Dave and I have our eyes on the Salomon Sonofa Gunofa Trail Race in July.  At 10.5km, this seemed like a great debut.  I tried to convince a few Halifax Road Hammers to come with me and then I learned that Hammers David T and Doran were going and I was in.  I knew there would be laughs to be had.  I'm all about seeing beautiful things while running and this would be a fresh way to do that.
The race was on a new and "hidden gem" trail network developed by mountain bikers.  The trail was described as fast and flowy singletrack…with some technical sections thrown in for good measure.  I am calling 10km of the 10.5km technical because there was about 5 x 100m stretches of flat and clear path.  That was it.  For this road runner, everything else is technical!  I don't know what the heck kinda mountain bikers these are and I don't want to know!
My "Dorothy, this isn't Kansas anymore" moment was just before the race when I asked where the course took us.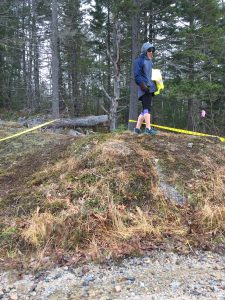 "Up there," said Allana..
"Up that road." I repeat.
"No." She says.  "Into the woods there."
She's pointing to a not-entrance to the woods, over a small boulder.  The race shall begin by bombing right into the woods, up and over an embankment.  Oh girl.  Here we go.
Concerned and now scared (I mean me) David, Doran and I line up in the middle of the pack.  I have no idea what I'm doing.  I want to say with the guys.  Race Directed Jody gives many instructions and then it's a go.  Over the embankment, lol!
Here are my 10.5 highlights/insights/memories for this 10.5km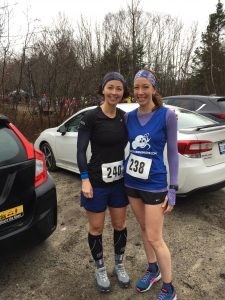 1. It was exhilarating.  Like really, really fun.  Like a feeling of being a wild child and running wildly through the woods.  At many moments, I didn't want it to end.  That was up until about 7km.
2. Single track means single track. Most of this race was exactly single track and that means it's not possible to pass anymore without smacking into a tree or falling off a cliff. So where you started in the pack, you stayed. We probably didn't need to line up in the middle of the pack. We weren't able to get to an appropriate pace spot until 5+km
3. 1:20:xx, like whoa.  Good thing I had those collection of moments of not wanting it to end because didn't even FOR-ever. it was like a jesus-half-marathon!  1:20:xx for 10.5km, woweee!  I knew the trail would be slower but I had no idea this much slower!  The winner was 1:02:xx.
4.#bettertogether applies on the trail too.  I spent much of this trail race behind David T and that's where I wanted to be.  Minus 500m, this was all roots; moss;, tree stumps; rock of small, medium and large size; soft forest bed; little hills; rolling hills; hills that were like walls; logs to scale and duck under etc.  I liked being behind David and watching where he put his feet and then I would put mine there too.  I wondered at how graceful David was and I started asking him if was actually a secret ballerina?  There were a series of switchback hills and in the spirit of #bettertogether, my favorite moment of the race was when trailing behind Doran caught sight of us on a switchback at about 8.5km and yelled "Yea guys!"
5. A Wall of Moss. We climbed a wall of moss at one point.  And then we had to run down said wall of moss.  It was intense.  And it actually makes sense to power walk when you are climbing a wall.  I marvelled at the burn in my legs, even while power walking up and I respect it.  I love pushing to that limit and recognizing the moment.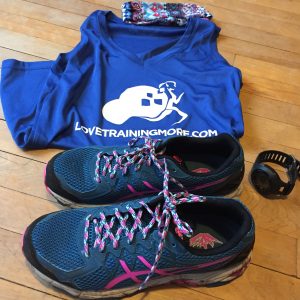 6. Thank God for my trail shoes.  I accidentally purchased new trail running shoes at Hashem's on PEI and thank God.  These Asics Fuji Trabucas were sturdy, grippy and held my ankles and let me be as fractionally aggressive as I was willing to be.
7. Clumsy and Agile all at once.  Can you use those 2 words together?  At the start, when we were body to body, I slipped, slid and almost rolled my ankles a number of times.  Each time Doran swore behind me- concern.  But I caught myself quickly every time and stayed upright and safe. I had these classic-Erin clumsy moments but I can correct efficiently. I know where my body is, credit to years of track dynamic drills. I had one more serious slide but I righted myself on a well place boulder on the trail.
8. 6km to Fearless:  It took me until about 6.5km to feel ever so slightly fearless and to get a little more aggressive with the trail.  I started scaling the little dips on the small rolling hills.  I got out in front of David for about 2km but I actually didn't like that- I liked following better and I was stressed about staying on the trail.  The trail was superbly well flagged
9. Pretty. The Sandy Lake Section was possibly really pretty.  I don't know for sure.  Though I wanted to look at the view, I couldn't do anything but watch my footing and we were running on a trail on an angle on the side of a steep hill.  It was either look at the lake and risk sliding into the lake or watch Ballerina Dave's feet!
10. Elbow Issue: The only thing I managed to make sore was my elbow.  In a dizzying stretch of tight turns, I grabbed a tree to propel myself about the tight turn. Don't do that.
10.5.  Snacks! There were potatochips, coke and chocolate chip cookies at the finish line.  Yes.  Because this was like a half marathon, I was gassed by 70 minutes of running.  There are no water stops in the deep moss filled woods!
So at the end of 1 hours and 20 minutes, I had a super fun day.  Good for 3rd place girl.   I talked with some fellow road warriers at the finish line.  We said it was hardest 10km we'd ever run.  Like sweet-lord, I ran an undertrained 40:xx 10km last month.  This was twice as long!  I vow that I will never run longer than 10.5km on the trail.  
But now, cozy in my home, with my new NS Trail Runners hat (thanks Doran!), I'm wondering if I can do 27km at Wascally Wabbit?  They say there's 10km on a road included….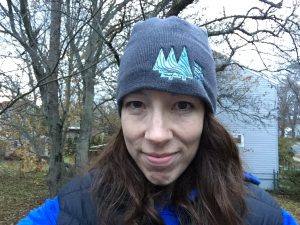 By Allana:
Some of my favorite things were said today by friends running this trail for the first time and/or trail running for the first time:
Friend: "I'm not worried about needing water because I won't be working that hard." As a reference, the Blue Nose 1/2 marathon is about 183 meters of climbing over 21.1k. This race is 10k with 280m of climbing. It was hard work!
Friend
: "I think it will take me about 60 minutes to finish." At the 3k mark I said to friend: "We just ran 3k 
in 32 minutes
, might want to adjust your expectations"
Me: "I think this moss might be like quick sand and we are going to get swallowed up!"
Friend pre-race, but hasn't been on this trail before: "This trail is much easier than the Humongously Hilly Trail race"
Friend post-race: "This trail is WAY more challenging than Humongously Hilly!"
Me: "Thanks friend. Your pre-race info was super helpful :)"
Me: at 6k, in my head: How am I so out of shape? I am toast at 6k. Wonder if my friends will wait for me if I have a nap over there in those mossy leaves?
Big thanks from both of us to the NS Trail Runners for a top notch event! The organization and flagging on course was excellent and the cheering by the course marshals and race director was so much appreciated by this tentative rookie!! 
Full Race Results
 here.